Of all musical instruments, the piano is one of the most widely used and is recognized as a staple of both classic and modern music genres. For centuries, great composers have been constructing tunes intended to be played upon the keys of a piano and these compositions have survived and continue to be enjoyed by the masses today.
One of the most popular piano pieces of all time is Ludwig van Beethoven's "Fur Elise," composed for a girl named Elisabeth. With an enticing melody and several intense measures of tricky notes, it's no surprise that most students of the piano desire to learn this song.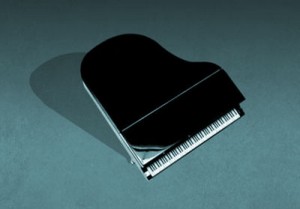 Beethoven is also known for his "Moonlight Sonata," written in 1801 and dedicated to Countess Giulietta Guicciardi. With a much slower tempo and darker tones, this piece conveys a deeper message of tranquility. Arranged to contradict the standards of the time, each of the three movements brings about a stir of emotions.
A slightly controversial piece is the simply named "Minuet in G," which was discovered in a hand kept journal and attributed to Johann Sebastian Bach for decades until identified as a section of Christian Petzold's harpsichord suite. With a mild, upbeat, composition filled by lofty notes depicting simple happiness, this song is easily learned and useful to impress.
Bach's most often performed prelude is his "Prelude No. 1 in C major" from the Well-Tempered Clavier, a collection of Bach's work generally regarded as the most influential selection of Western music. Conveying excited bliss at an accelerated tempo, the piece can aptly set the mood for positive ambiance.
Frederic Chopin, the greatest Romantic composer, has his piano talents best demonstrated by his "Scherzo No. 2 Op. 31." Exploring the entire range of the instrument, this song employs nearly every key of the piano and includes long flowing passages of intricate melody. Louder than most of Chopin's other works, this Scherzo welcomes a lively performer to bring it to life.
Johannes Brahms was both a traditionalist and an innovator, being somehow associated with Bach and Beethoven as the "Three Bs" of classical music. While much of his work is oddly familiar while still widely obscure, his "Rhapsody in B Minor Op. 79 No. 1" could be likened to a collage of his style, uncomplicated yet contrasting. Instead of being displeasing to the ear, this medley symbolizes a journey and ranges from meek to powerful.
Suffering from ridicule and depression most of his life, Pyotr Ilyich Tchaikovsky was able to break free from his traditional Russian roots and compose music in compliance with his contemporaries from the West. His "Piano Concerto No. 1 Op. 23" is a particularly lively song emphasizing the signature Russian sound with a refreshingly European repertoire.
Franz Liszt was considered the most technically advanced pianist of the 1840s, able to transcend the limiting boundary of composer and performer. Due to his notable skill, his songs are famously engrossing, especially his collection of Hungarian Rhapsodies. While the entire series is worthwhile, Number 14 is exceptionally inspirational and the basis for an entire orchestra performance.
Of course, it is impossible to compile an end-all list of the greatest classical piano compositions and these eight selections can only begin to introduce a novice to the glory of piano music. The exposure of an open mind to a plethora of expertly crafted tunes does only to build taste and develop a tuned ear.